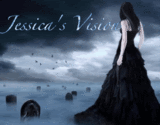 I was featured over at
Jessica's Vision
for Guest Blogger Friday (a day early, because of Christmas)!
You can see her post
here
, in which I've answered a couple of questions for the feature.
I've never been featured on anyone else's blog before, so this was really exciting. I mean, even more exciting than when I found myself on someone's blog roll last week.